Manuscripts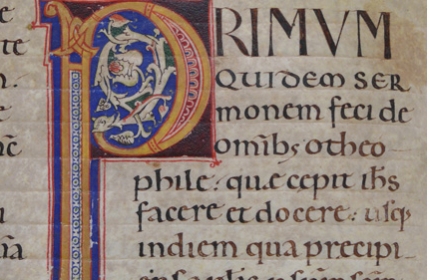 The Archive owns 133 manuscripts conserved within section C, 97 of which are medieval. Among the medieval manuscripts conserved are several composite volumes from the (in total, the number of individual codicological units arrives at 154) that span a chronological arch extending from the 10th century to the end of the 15th century. These manuscripts represent what remains of the historic libraria Sancti Zenonis, the evolution of which can be traced through six medieval inventories dating from the 12th through the 15th centuries. Also from the medieval period are three composite collections of documents in the form of registers.
The remaining manuscripts (33) conserved in section C date from the modern age (16th-20th c.) and contain historic works, chronicles, collections of bills and privileges granted to the Chapter, cadastral maps belonging to the Sacristy of San Zeno, the Massa Canonici and the Chapter, and heraldry of Pistoian families.
Finally, still within section C, four folders (C.170, C.171, C.172 and C.177) conserve fragments of medieval and modern manuscripts.
Additionally, section B1 conserves manuscript works by Pistoian bishops (Francesco Toli and Enrico Bindi), by canons of the Cathedral (Gaetano Beani and Giovanni Breschi) and by the priest Augusto Vivaldi, professor of literature at the Seminary of Pistoia in the 19th century. These manuscripts bear witness to preparatory works for printed publications and are interesting sources for Pistoian history.
Lastly, the Archive's manuscript collection is enriched by an interesting group of autograph letters written by illustrious men from the 17th-20th centuries (politicians, literati, philosophers, musicians, clerics, scientists).
This section is divided into the following categories:
Online Materials (1):